WESTERN EVENTS

SEE ALL OF OUR latest SERVICES ON WWW.SILVERADORANCH.COM


Your one stop in the Dallas-Ft.Worth Metroplex area, for all of your Western Events needs.
DALLAS FT WORTH WESTERN PARTIES - WESTERN THEMES - WESTERN THEME PARTY SERVICES -
WESTERN THEME IDEAS - WE ARE THE REAL DEAL!
Call us for a party, special event or theme prop rentals consultation. We highly recommend that you schedule a FREE site survey.
Our experienced theme event planners can make suggestions and make sure that every last detail is covered.
A western party production company, offering: Western party planning ,Texas hospitality services, western party prop rentals, western decorating,
western entertainment, BBQ / Barbecue Catering
, and Music
Call Us Today !

214-686-4872 / 972-955-8325

Metro 972-399-4000
Toll Free 1-877-742-9872
All Entertainment and Services available Nationwide
About Us: Silverado Ranch Western Parties, offers nationwide the very best of quality Texas / western music, old west entertainment, traditional Texas food & BBQ / barbecue catering, bar & beverage services,custom & authentic western props,party rentals, decorating and complete western party planning, designing and production "attention to detail" services.
Silverado Ranch Western Parties, has specialized in designing, planning and production of Western, Texas, Mexican,Cowboy, Old West,Wild West and Ranch Theme Private Parties Corporate Special Events and convention trade shows since 1979 and can provide you a who's who list of client's upon request.
Texas / Country Music: Silverado Ranch can provide a variety of traditional & top 40 country music artists,country and western tribute bands, and legendary 'look and sound alike' artist for your music entertainment needs.
Facilities: Looking for a western facility or a downtown Dallas - Ft Worth area ranch to host your next event? Would you like something special to make your western theme party or Texas special event something your guests will be talking about for years to come? Call us we've got them!
Entertainment: Contact a Silverado Ranch Western Party Planner who can feature at your ranch or ours: a PRCA or Mexican Rodeo, Mechanical Bull, Old West Quick Draw Challenge or Gunfight, Authentic Horse Drawn Stagecoach Rides, Wanted Poster Photos, Armadillo Races, Saloon Girls,1880's Medicine Man Magician, Rope Trick Artists that performs atop his horse, Strolling Singing Cowboys or Cowgirls. The Silverado Ranch Hands Band and The Texas Trailhands are also available for your country and western music needs
BBQ Catering: Do you have a western theme private party,special event, western Christmas / holiday party or Texas BBQ / BAR-B-Q comming up in Dallas or nationally, that could use that special Silverado Ranch Productions western flavor? Let us help you plan a Mexican Fiesta or host
That special Quinceanera or Sweet 16 celebration and banquet.
Silverado Ranch western party's Award Winning Texas BAR-B-O and all the delicious trimmings from a "Texas Style" western decorated buffet line complete with cow skull, denim table cloths, red bandannas, saddle, rodeo banners,cactus, branding irons, lanterns, bluebonnets & cowboy boots "you get the picture" we're waiting on your order!
Fiestas: Silverado Ranch es un facilidad para Quinceaneras, Fiestas, 15 Anos, Recepcions de Boda, Conertars, eventos de curepo y compania. Silverado Ranch ofertas: Encargarse del Servicio del Estilo de Tejas Barbaco (sins 1979). Dallas - Irving, Texas.
We have authenic Mexican Mariachi Music and Folkloric Dancers for your Mexican themed special event
Smoker Rentals: Silverado Ranch BBQ / BAR-B-Q / Barbecue / "Catering anywhere, for any ole reason", concessions & BBQ smoker rentals are also available.
Bar Services: Silverado Ranch Western Party's "Wheel Travel Saloon" 12' cedar mobile western bars, complete w/ cedar shingled canopies, cowhide and assorted western decor, professional certified uniformed or costumed bartenders, and liquor, longneck beer & wine bar-catering services for private parties.
Party Props & Rentals: Silverado RanchWestern Parties has a wide variety of custom and authentic Western Party Props: Real & Artificial / Fake Hay Bales, Cedar Rail Fencing, Saddles, Whiskey Barrels, Wagon Wheels, Old West Signs,Ranch Entries,Cow Skulls, Life Size Long Horn Steer Props, Western Back Drops,and much more! We can western decorate at your home, office, design trade show booths,convention centers, movie shoots and even custom build western style homes and complete western town sets for private or commerical use.
Custom Back Drops: Let our staff of artist paint your own personally designed backdrops.You provide photos or artwork they take it from there and create amazing recreations for you to purchase.
Backdrops are available in all sizes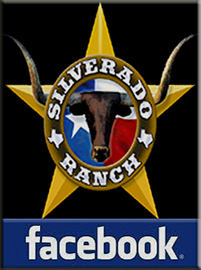 214-686-4872 / 972-955-8325
Metro 972-399-4000
Toll Free 1-877-742-9872
© Copyright : All Rights Reserved 2019 / Silverado Ranch